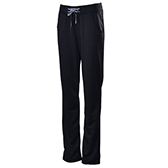 Jogging Pants
are worn by women at different times of the day, and in different occasions. Women wear
jogging pants
to go jogging whether day or night. They also wear jogging pants walking on the beach or working out.
Jogging Pants
make women feel relax because they absorb sweat and they are flexible. Jogging pants are comfy an they are not for exercising out only, but they are worn around the house, or for a sudden run to the convenience store around the corner.
Jogging pants
are washable and they are easy to take care of. Their designs allow a nice and flexible movement.